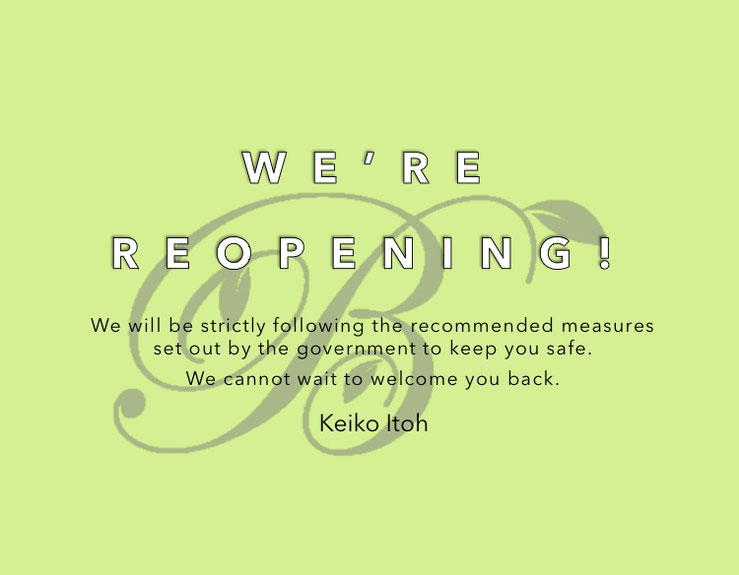 お客様へ
---
平素より、当サロンのサービスをご利用そして引き続きサポートをしてくださり誠にありがとうございます。
この度は新型コロナウイルスの影響により、未曾有の混乱と様々な事態への対応でご多忙の事と存じます。
当サロンTokyo Beauty Studioにおいても、新型コロナウィルス(COVID-19)感染拡大による非常事態宣言を受け、2020年11月中旬より今現在まで臨時休業させて頂いておりますが、
4月12日より私共のサービスも再び営業再開できる運びとなりました。
只今オンタリオ保険省のガイドラインに従い、これまで以上に衛生管理を徹底し、お客様に安心して当店のサービスを受けていただけるよう、営業再開に向けて準備しております。
当面の間はお客様の安全を第一に考え、政府からの新たな情報や指示や規定に基づき感染予防を徹底する為、ご予約可能の枠を大幅に限定させてのリオープンとさせて頂きます。
完全予約制、営業日及び営業時間は当面の間は短縮させていただきますので、事前にお電話もしくはテキストメッセージでご確認頂けると幸いです。
サービスメニュー及び料金に関しても若干の変更がございますので、詳しくはこちらのウェブサイトのServicesページをご覧頂いた上、予めご予約の際にお電話もしくはテキストメッセージにてご確認ください。
ご不便をおかけ致しますが、ご理解の程、どうぞ宜しくお願い申し上げます。
皆様のご健康とご安全をお祈り申し上げます。
To our dear clients,
---
We thank you for using our services and for the ongoing, loving support of Tokyo Beauty Studio.
During these unprecedented times of the COVID-19 pandemic, we imagine everyone is dealing with the confusion and many changes that have been made to daily life.
Due to the pandemic, Tokyo Beauty Studio has been temporarily closed since November 2020 to this day.
However, we will be able to officially reopen our doors to provide our services once again, starting Monday, April 12th!
We are closely following the guidelines set out by Ontario Ministry of Health, and will be operating with even further care in infection preventative measures and sanitary practices to make sure clients can safely use our services. Reopening preparations for a safe environment are currently underway.
We will be complying with the recommendations from the government, to limit the number of available appointment slots following the reopening. Appointments only (no walk-ins), and our hours of operation will be reduced for the time being. Please text or call us in advance for appointments. Our service menu and pricing will also undergo some changes following the reopening. We will update the service menu and pricing on our Services page by the reopening date. Please review the new menu and pricing before booking your appointment.
We send our sincerest apologies for the inconvenience, and we truly appreciate your understanding.
We wish for everyone's health and safety.
Tokyo Beauty Studio, Inc.
Keiko Itoh